Meet The Off Leash K9 Team
Katie Cook - head Trainer
Katie is proud to be a part of Off Leash K9 Training Detroit and prides herself in helping dog owners achieve a better relationship with their canine companions.
She pursued her passion for animals at Michigan State University where she received her Bachelor's Degree in Animal Science! After college, she began working at a dog daycare and volunteering for various rescues and shelters. Her obsession for squishy faced Boxers led her to Boxer Haven Rescue in 2014 but she loves all dogs and volunteers with various rescues who need her. She has successfully fostered and adopted out over 80 dogs! This would not be possible without the help of her husband, Shane and her pack of dogs, Myla the Boxer, Belly the Pug/Dachshund mix, Nova the German Shepherd and Seager the Boxer. Plus, she has a wide array of rescue critters including chinchillas and rabbits. Katie, being an advocate for 4H, is also the Sheep Superintendent at the local county fair. Her love for animals, dogs specifically, is endless!!
Outside of training, her hobbies include pet photography, volleyball, kayaking and spending time with her family and pups.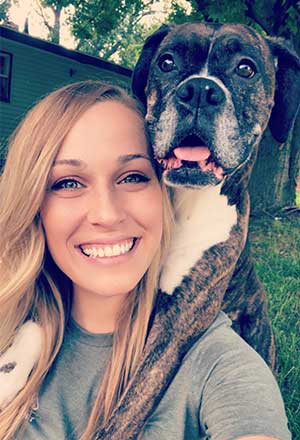 Jacob is a big part of our famous board and train program and also does in-home lessons. Jacob was a successful retail store manager at Journeys for nine years! He ran stores in all the major malls in Michigan and also the flagship store in Downtown Chicago and was an Area Manager! He left the retail world to pursue a career working with animals. He worked at a Dogtopia and held every position you can hold at a dog daycare including GM and Area Manager.

While there his love for dogs only intensified! Jacob also worked at another dog training company before joining us! Jacob has two rescue pups himself Bones a 4-year-old pit bull who was uncontrollable when Jacob got him, Baby a 2-year-old Staffy who is dog aggressive and owner protective. Jacob has worked hard to give them structure and a loving home!
Outside of training Jacob enjoys watching/playing sports, going to concerts, fishing and spending time with his family
Liz focuses on basic and advanced lessons and also is part of our famous board and train program. Liz was a successful retail store manager at Journeys for 3 years. She also oversaw 3 of the Shi by Journeys stores in metro Detroit. This is where Jacob and Liz met and started their relationship together.

Jacob left Journeys to venture into the animal industry and Liz shortly followed to try it out. Liz was promoted from canine coach to GM at Dogtopia in less than a year. Jacob and Liz have 2 rescue pups, Bones and Baby and are in the process of bringing home their first lab puppy!

Outside of training, Liz enjoys spending time with her family, photography, anything outdoors, and swimming in the lake.
Scott grew up on a small hobby farm in Ortonville, Michigan. This is where his love for animals began. As a family, they were highly involved in 4H. He showed every species of animal Including dogs and competed in obedience trials as well as in breed type showmanship.

Growing up he raised Labrador Retrievers and English Springer Spaniels. He's been hands-on with everything from breeding to day-to-day care ever since he could walk. Dogs are by far his favorite animal, and there has been one at his side his whole life.
He enjoys helping dogs and their owners communicate better with one another so they both can enjoy their best life.
Krista is an avid dog lover. Even as a child she was very drawn to caring for and being around dogs and knew she wanted a career working with them! Unsure of what field she wanted to go into, she began working at a doggy daycare, Dogtopia. There she learned so much about how dogs interact, about their behavior and how dogs learn. It became very clear what she needed to do, dog training! Krista could not be anymore proud to work for Off Leash K9 Training Detroit and is passionate in helping owners build a better relationship with their pups. 
Krista's pride and joy are her two dogs, Frankie the pitbull and Benji the Pomeranian/ Shih Tzu. Krista has a soft spot for pitbulls and has always wanted one, so when she rescued Frankie it was the best day ever and they have been inseparable ever since. 
Outside of training, Krista enjoys playing soccer and volleyball, spending time with family and friends, reading and spending time outdoors. 
Chelsea Cummins-Richter - Trainer
Chelsea grew up in small-town southern Indiana where her love for animals began. Since the age of ten, Chelsea has been rescuing and rehoming animals. She knew from a young age that animals were her passion. This led Chelsea to her first 'real' job with dogs. Chelsea's career started at a dog boarding facility. This led her to dog daycare where she gained four years of experience learning and observing dog behavior. She realized she wanted to work even more with dogs and became a trainer. 
Chelsea is proud to join Off Leash K9 Training Detroit. She loves helping dogs and owners learn to live in harmony. She genuinely believes there are no bad dogs, and every dog deserves a chance! 
When Chelsea is not training she enjoys spending time with her 'pack' – her boyfriend, Artie, her daughter, Avery, her German Shepard, Roxy, her pitbull, Sophie, and her cat, Jax. 
do you have questions for us?
Or Call us for a free consultation today!
About Off Leash K9 Training
Dog Trainers Who Are Recognized Around The World!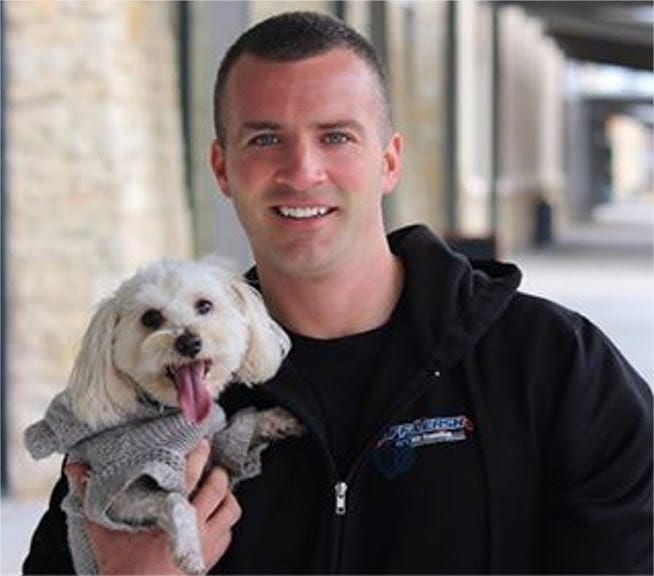 Nick White is the Owner and Founder of Off Leash K9 Training.  Nick is a former US Marine and former US Secret Service. He currently has over 130+ dog training locations throughout the United States. 
Nick is globally recognized as being one of the top dog trainers in the world.  He has 2 official world records in off leash obedience, named on Wikipedia as one of the top 20 dog trainers in the world, recently named top 10 trainer in the world by bestdogtrainers.org, has been featured in many magazines and shows, and he is regularly requested by the top celebrities and athletes! He has been called upon by people such as actor Ryan Reynolds, WWE's John Cena, MLB All Star Max Scherzer, UFC World Champion Jon "Bones" Jones, and many more!
You can visit our YouTube Channel and watch over 1500+ before/after videos of Nick and his team's work!  Off Leash K9 Training has more documented videos than any dog training business in the entire world!