Meet The Off Leash K9 Team
Katie Cook - head Trainer
Katie has been part of OLK9 Detroit since 2018. She prides herself in helping dog owners achieve a better relationship with their canine companions.
Katie grew up showing 4H and pursued her passion for animals at Michigan State University, where she received her Bachelor's Degree in Animal Science! After college, she began working at a dog daycare and volunteering for various rescues and shelters. She has successfully fostered and adopted out over 80 dogs! This would not be possible without the help of her husband, Shane, and her pack of rescue dogs, Nova (GSD), Seager (Boxer), Belly (Pug/Dachshund), Bruce (Giant Schnauzer), and Posey (Belgian Malinois). She also dabbles in dog sports, including dock diving, frisbee, and fast cat.
Dog training has been the most fulfilling lifestyle! She enjoys working with small dogs, XL dogs, fluffy dogs, and naughty dogs. Whatever the dog is, she is happy to help you achieve your goals and work towards making your dog the best version of itself! It's never too late to start.Outside of training, her hobbies include pet photography, volleyball, kayaking, and spending time with her family and pups.
Scott grew up on a small hobby farm in Ortonville, Michigan. This is where his love for animals began. As a family, they were highly involved in 4H. He showed every species of animal Including dogs and competed in obedience trials as well as in breed type showmanship.

Growing up he raised Labrador Retrievers and English Springer Spaniels. He's been hands-on with everything from breeding to day-to-day care ever since he could walk. Dogs are by far his favorite animal, and there has been one at his side his whole life.
He enjoys helping dogs and their owners communicate better with one another so they both can enjoy their best life.
Krista is an avid dog lover. Even as a child she was very drawn to caring for and being around dogs and knew she wanted a career working with them! Unsure of what field she wanted to go into, she began working at a doggy daycare, Dogtopia. There she learned so much about how dogs interact, about their behavior and how dogs learn. It became very clear what she needed to do, dog training! Krista could not be anymore proud to work for Off Leash K9 Training Detroit and is passionate in helping owners build a better relationship with their pups. 
Krista's pride and joy are her two dogs, Frankie the pitbull and Benji the Pomeranian/ Shih Tzu. Krista has a soft spot for pitbulls and has always wanted one, so when she rescued Frankie it was the best day ever and they have been inseparable ever since. 
Outside of training, Krista enjoys playing soccer and volleyball, spending time with family and friends, reading and spending time outdoors. 
Chelsea Cummins-Richter - Trainer
Chelsea grew up in small-town southern Indiana where her love for animals began. Since the age of ten, Chelsea has been rescuing and rehoming animals. She knew from a young age that animals were her passion. This led Chelsea to her first 'real' job with dogs. Chelsea's career started at a dog boarding facility. This led her to dog daycare where she gained four years of experience learning and observing dog behavior. She realized she wanted to work even more with dogs and became a trainer. 
Chelsea is proud to join Off Leash K9 Training Detroit. She loves helping dogs and owners learn to live in harmony. She genuinely believes there are no bad dogs, and every dog deserves a chance! 
When Chelsea is not training she enjoys spending time with her 'pack' – her boyfriend, Artie, her daughter, Avery, her German Shepard, Roxy, her pitbull, Sophie, and her cat, Jax. 
At a young age Emma learned that she had a soft spot for animals. Emma grew up in a small town with her mother, father, and 2 sisters where over time she would have the privilege of owning some amazing pets. From rabbits, to hamsters, multiple dogs, cats and an iguana, Emma's love for her pets and other animals grew fast.

Once college came around, Emma was unsure of what to go into, so she switched from major to major, when eventually, she decided to take a break from school and get a job at a doggy daycare! Emma enjoyed the job and loved working with dogs but wanted to do more by helping the owners to make their dogs the best that they can be! With that being said, she got a job as a dog trainer with Off Leash K9 Detroit and has loved it ever since!

Outside of work Emma enjoys hanging out with her boyfriend, Bobby and their two pups, Reggie who is a pug, and her Corgi puppy, Maggie.
Abbey comes from an extensive background in dog behavior and health from working at a renowned dog daycare facility for many years. Abbey started as a Canine Coach and was quickly recognized for her amazing work ethic and attention to detail. She was promoted to assistance manager and worked directly with client communications, as well as marketing. She is currently finishing up a degree for Marketing at the University of Michigan and now that she is employed with Off Leash K9 Training, she handles all of our marketing and social media when she isn't training with dogs. Although her degree is in business administration, she has had a strong love for animals ever since she was a kid. She new that whatever career path she chose, it had to be involved with animals. In her younger days, Abbey grew up owning Boxers, fishing with her dad and uncles, and enjoyed horseback riding.
Outside of training, Abbey enjoys painting, hiking, cooking, and spending time with her 8 year old Boxer "Bailey" at home.
Erika is thrilled to be joining the OLK9 Training Detroit Team! Unique to our team, Erika was a previous client. After experiencing the amazing transformation in her Golden Retriever and Australian Shepherd she knew she had to give others the same gift!!
Her love for dogs started at a young age. She has always had at least one dog in her family which included several different breeds from Yorkies to Golden Retrievers.
Outside of training, Erika enjoys spending time with her family, dogs, and live music. She loves being outside hiking, kayaking, and camping.
She is passionate about giving others the tools to communicate with their dogs and set them up for success!
Eddie Armbruster - Trainer
Eddie is a Michigan-born trainer who has been training, walking, running, and hiking with packs of dogs for the past 5 years. This came about through growing up alongside dogs and nature as a whole. 
That may have been the fuel for becoming a trainer but the spark was the adoption of his first personal dog, Kaiser. Kaiser showed him the responsibility, patience, discipline, and requirement for respect towards nature that came with owning a dog. 
It's now these very principles that he bares in mind to help owners build their own bridge with nature through the relationships with their dogs.
As a child, Ashton grew up around all types of animals, but her family always had a dog. Growing up, her grandmother was always helping local shelters and pups and showed Ashton how to love and care for them. After years of helping on her family farm, she finally took over her grandmother's dream to work with dogs. Starting at a doggy daycare, she grew to love and understand all types of dogs more than she could've ever imagined and wanted to continue her own education after getting her own pit bull puppy by learning about behaviors and management with Off Leash K9 Training Detroit, where her love for the job and animals continues to grow daily!
When Ashton's not training, she likes to spend time with her two pups, Zola and Finn, taking them on hikes and volleyball.
Lauren is excited to be a part of Off Leash K9 Training Detroit! She grew up on the east coast in Maryland and Virginia. She has always loved animals of all sizes and knew she wanted to work with them since she could talk.

She later moved to Michigan to earn her bachelor's degree in Animal Science at Michigan State University! During school, she volunteered at Veterinary clinics and worked at a wildlife rehabilitation center.

Her favorite part about being a trainer is helping clients communicate effectively with their dogs, strengthening the bond between them. In her spare time, she loves to play soccer, volleyball, and video games, go for walks, and cuddle cute pups!
I grew up with family dogs! Mostly shelter rescue pups and loved it. My interest was really peaked and taken to the next level when my friend Eddie started with Off Leash. I have really enjoyed helping countless families build better relationships with their dogs through obedience. I also spent some time at our Milwaukee location. I love all dogs, but I'm a sucker for Boston Terriers.

When I'm not at work, I am always out playing disc golf, going for hikes, or spending time with my wife.

I can't wait to help future clients and their pups live the Off Leash life!
do you have questions for us?
Or Call us for a free consultation today!
About Off Leash K9 Training
Dog Trainers Who Are Recognized Around The World!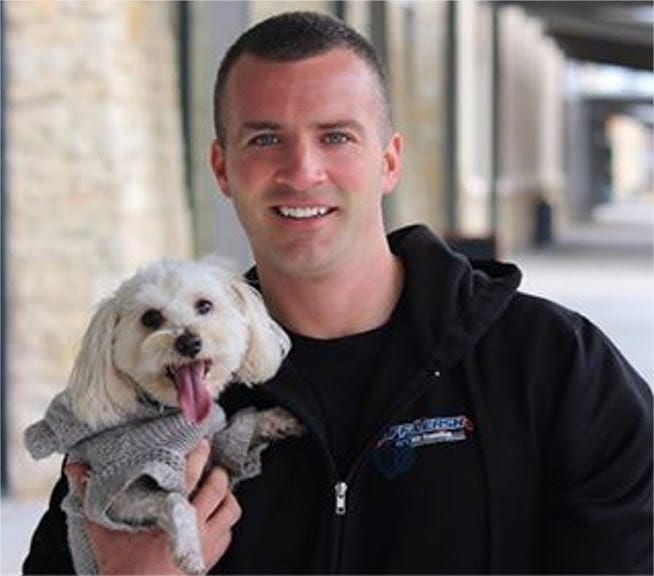 Nick White is the Owner and Founder of Off Leash K9 Training.  Nick is a former US Marine and former US Secret Service. He currently has over 130+ dog training locations throughout the United States. 
Nick is globally recognized as being one of the top dog trainers in the world.  He has 2 official world records in off leash obedience, named on Wikipedia as one of the top 20 dog trainers in the world, recently named top 10 trainer in the world by bestdogtrainers.org, has been featured in many magazines and shows, and he is regularly requested by the top celebrities and athletes! He has been called upon by people such as actor Ryan Reynolds, WWE's John Cena, MLB All Star Max Scherzer, UFC World Champion Jon "Bones" Jones, and many more!
You can visit our YouTube Channel and watch over 1500+ before/after videos of Nick and his team's work!  Off Leash K9 Training has more documented videos than any dog training business in the entire world!